Some days you learn something new about yourself. Today I learned two things. First, that I might be a good parent when that time comes. And second, that I might not have a heart attack caused by farming.
Why did I learn these things? Well, let me tell you my story from today. I was in meetings all morning and afternoon, and I got back to the farm about 2 hours after usual chores (feeding time). I hurried over to the barn right away, knowing that there would be some starving pigs to greet me and let me know that I'm late.
I walk into the barn, and first thing I hear is: nothing. First rule of farming? Your life relies on the health of the soil and getting enough water to fall from the sky. Second rule? It is not good when a barn of pigs is not deafening loud at feeding time.
To my surprise, there were pigs in the pen as I stepped in to feed them their soaked feed. Huh, that's weird, but good!
Then I realized that 2 of the 5 were gone. Four Letter Word!
The search begins. As I walk out to the open barn door, I saw pig tracks and snout marks that I failed to notice before. At this point I was imagining myself looking for pigs in all of the woods in the neighborhood in the dark and cold. "Here piggy piggy!" I could see the news headline: Wildlife Student Turned Farmer Creates Feral Hog Population in Southern Wisconsin.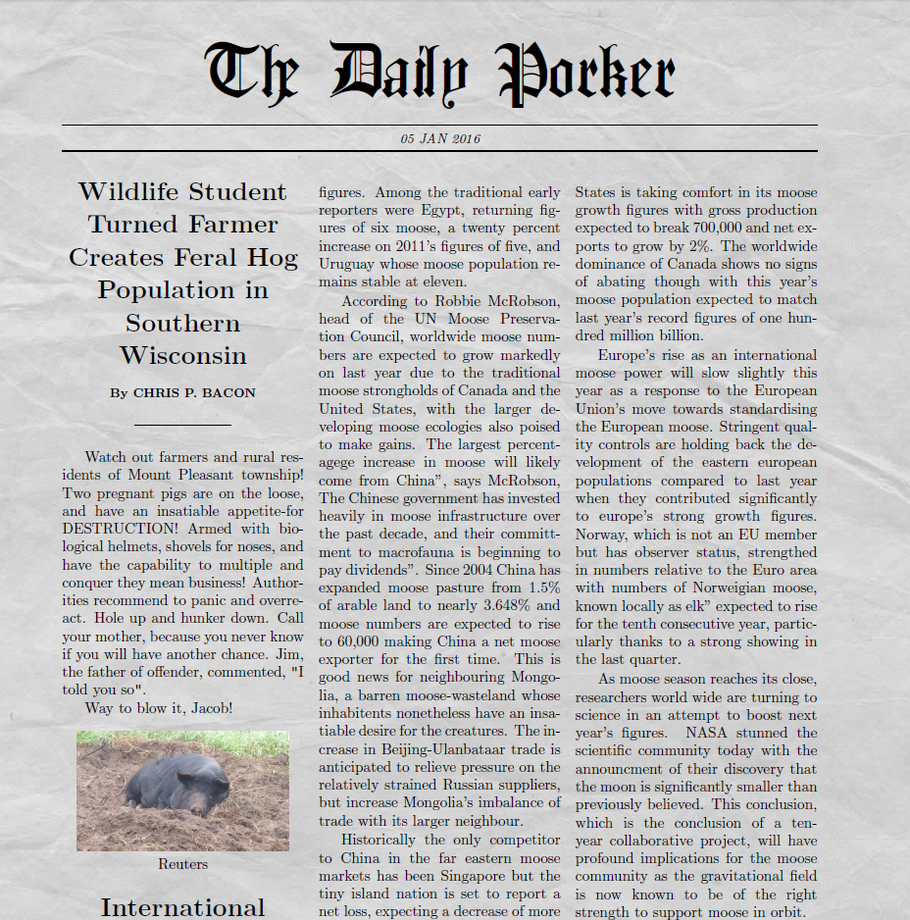 Unlucky for me the tracks were lost quickly in the machine tracks on the road. There goes my "When Life Hands You Lemons" chance at least act like you're Davy Crockett.
Ok, where could they have gone? I scan the usual suspects: the wooded hillside they were all summer? Nope. The machine shed (oat wagon)? I don't see any pigs showboating down there... Luckily, I see a barricaded door on the calf barn just 50 meters away.
Today my guardian angel was my father who got them in there, and left them for me to find. Crisis and a cold night outside avoided.
As the day was slipping away I was feeling like pressing my luck. Why? I have no idea, I wasn't thinking clear, but I cleared the doorway, slid inside for a second, and they greet me with affectionate "pig kisses". This gave me the brilliant idea to just led them back to their barn. (To be honest, I had the idea, this just justified it). Now a more experienced farmer would know not to do this, this is my 11th month taking care of pigs. My dad avoided the long night search-and-rescuing for me, and here I am being all willy nilly just trying to lead them back with no corn, just good faith (pigs know no such thing).
You can see where this is going...
All the way back to the pig barn, actually! I must have them trained well, but not well enough to avoid needing to do this in the first place, I guess.
This is where I learned that I might be a good parent eventually. I got them into their pen to reunite with their fellow pig comrades, and started to feed them just a bit more to keep them there while I fixed the hog panels attachments. No problems there, except for Snowball trying to eat my gloves (which might be pigskin? what a savage). I stood up and took that deep exhale of relief. There were the two culprits, just looking at me. They had not a smidge or hint of guilt. If I had to guess, I'd reckon that they didn't know what they had done (on the way back in I realized that they found the next 3 days of feed..). "I love you guys".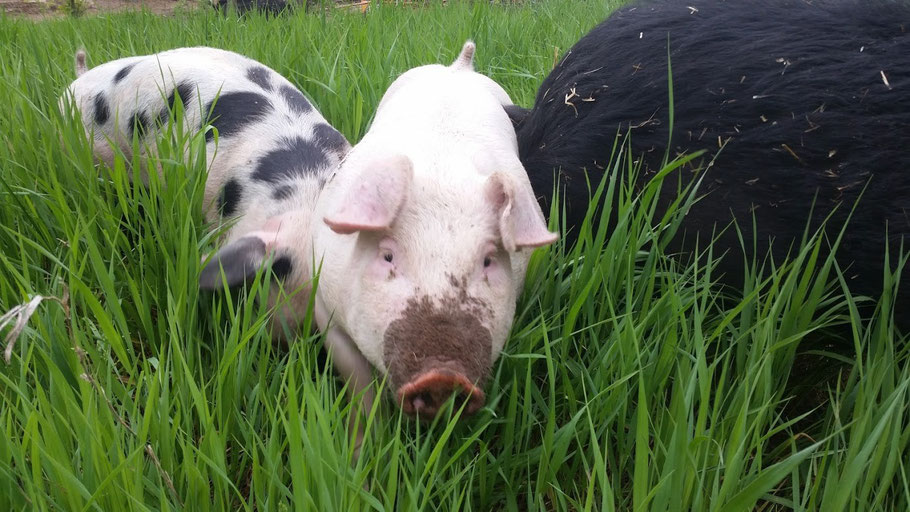 At that moment, I realized that this entire time, other than a quick cuss upon the realization that my dad had earned privileges to "I told you so", I didn't lose my cool, not even a little bit. I wasn't angry, or even really stressed, just the three C's: cool, calm, and collected. And it worked out in the end.
Pigs are like kids. They'll go where they shouldn't sometimes and don't realize what they are doing is wrong.
Pigs are like teenagers. All they think about is food, sleep, and sex. And I think both are a bit overrated in the intelligence department (especially pigs).
I imagine that being a good parent requires patience and calmness. Today, I exhibited those traits in a time where I could have freaked out. This could also prevent me from having a heart attack or other chronic stress-derived disease that ails farmers. My father has the propensity to get angry/stubborn as a form of stress, and I don't want to experience the same.
On a serious note, did you know that farmers are one of the professions most likely to commit suicide? Support your farmers, and let them know you appreciate what they do. Also, pay your farmers what they deserve so they don't have financial hardships that often lead to depression.
Well, if you made it this far, I hope you enjoyed the story, and thanks for reading! You are not aware of what my pigs are capable of. Keep a close eye on the facebook page to make sure I'm still around. I've read Animal Farm a few too many times to rest easy tonight. Why did I think naming one of my pigs Snowball was a good idea?!?!
-Jacob from Green Fire Farm